Hardin Happenings
January, 27th 2021
Liberty County Head Start and Early Head Start Now Enrolling
(See attachments below)
January, 11th 2021
Interested in getting a COVID-19 shot?
December 14, 2020
The Liberty County Sheriff's Office Thanks the City of Hardin for Their Generous Donation.
To: NEWS MEDIA ( Please see attached photo of Liberty County Sheriff Bobby Rader, center back row, and staff looking on as event organizers Stephanie Clark, front row far left, and Nikki Linn, front row far right, makes presentation.)
In this Christmas season of "peace on earth good will towards men" nothing could have exemplified this "good will" more than what the City of Hardin, Texas did for all law enforcement agencies in Liberty County when they organized a "Back The Blue" event and parade in their fair city on Saturday, December 5th. According to event organizer Stephanie Clark and Nikki Linn some thirty vehicles, both private and law enforcement, paraded through their streets with a tasty meal served to attending personnel after the parade. In addition to the parade and event, a total of $1,450.00 in donations from merchants and individuals across Liberty County was collected in support of the Back The Blue festivities.
It seemed that Clark's husband, former Marine Sergeant Brett Clark, first came up with the idea of organizing such an event to show support and encouragement to local law enforcement in an attempt to help negate much of the national negativity directed towards law enforcement during the past several months. And, as is often the case, Sgt. Clark turned to his wife, Stephanie, to help pull this together for the City of Hardin which she did in fine form. As Stephanie said, it was the goal and pleasure of their City to honor and show respect and appreciation for all law enforcement for protecting their respective communities on a daily basis and their future objective is to make this an annual event.
It was obvious this "Back The Blue" effort was not just a one day event as organizers used the $1,450.00 to purchase several $10.00 meal tickets to be distributed to every law enforcement agency in Liberty County and be redeemed by the Peace Officers at the Los Compadres Mexican Restaurant in the City of Hardin. During this presentation at the Sheriff's Office, several of these tickets were given to Sheriff Rader to be distributed among the personnel of his agency and the Sheriff was quick to express his sincere appreciation for this gracious show of support for not only the Sheriff's Office but for law enforcement in general. He further added that it was this kind of mutual respect and support that would, in the short term, show that the majority of all communities do, in fact, support their respective law enforcement agencies for the job they do and the responsibilities placed upon them.
Thank you

Capt. Ken DeFoor
Public Information Officer
Liberty County Sheriff's Office
(OFF) (936) 336-4535
(CELL)(936)334-5063
Images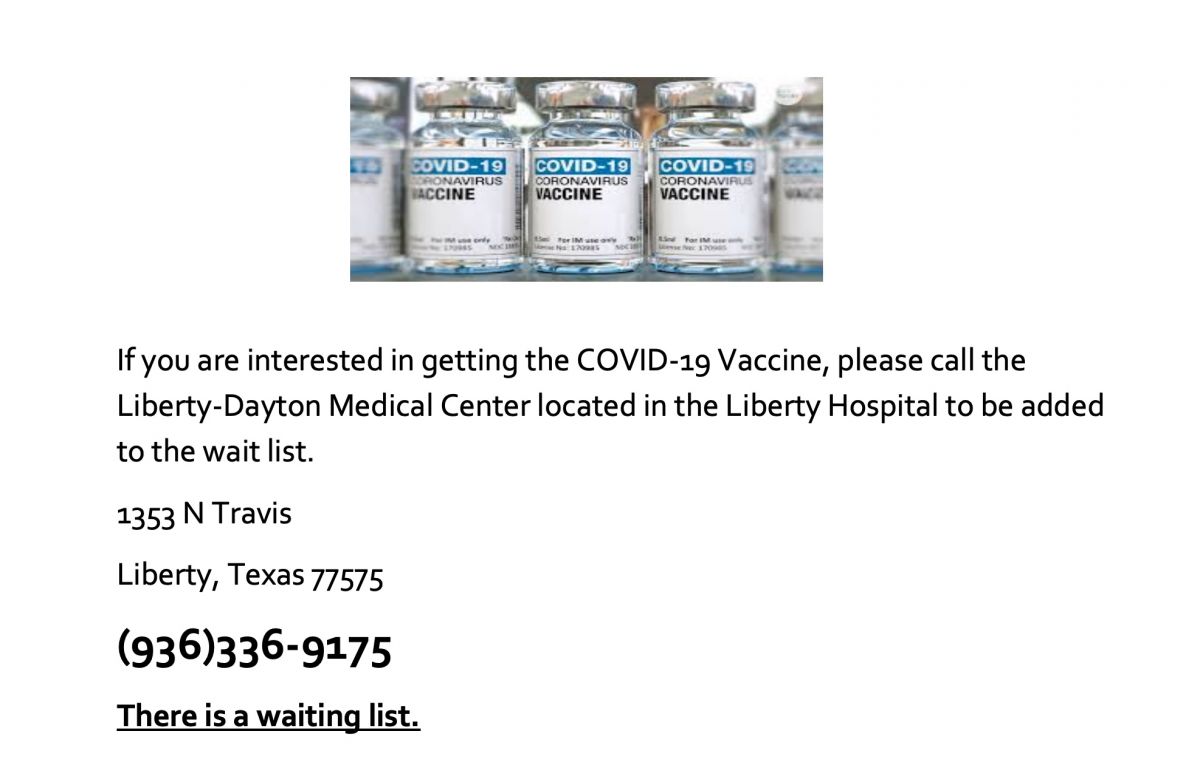 COVID 19 Shots